Thrift Savings Plan Learn More
Take Control of Your Future
As a federal employee, a member of the uniformed services, or a beneficiary participant, you have the opportunity to participate in one of the finest retirement plans in the world. Investing in your future doesn't have to be hard. Retirement choices can be confusing and overwhelming. EZTracker's goal is to remove the guesswork and to help you manage your own Thrift Savings Plan. Since 2002 we've helped thousands manage their 401ks, IRA's and retirement accounts with superior results.
How Does EZTracker work?
EZTracker gives you model portfolios, data about the choices in your Thrift Savings Plan, an overview of the current market, and timely investment information. As a subscriber you can follow one of the model portfolios or you can use our data to construct your own portfolio. EZTracker is designed to meet your individual investment style and need.
On the last Sunday of each month we'll send you an e-mail announcing the new issue of EZTracker. Just download your copy and update your 401k portfolio. It's that easy. We provide simple instructions and a FREE Help Hotline (201-503-6445) to get you started -- and to keep you on track.
Which Model Portfolios is Right for You?
Selecting the right portfolio is an individual decision based on your comfort and ability to take risk. Only you can decide. Planning your retirement is more important than ever. Your portfolio choice will vary based on age, income, lifestyle, other investment assets and your tolerance for risk. We believe you can take control of your TSP and plan for the retirement you envision. For help in thinking about your ability and comfort with risk, check out the short risk quiz provided by our friends at Friedenthal Financial: Risk Tolerance Quiz. No personal information (name, email, phone, etc.) is required to take the quiz. Your privacy is protected.
Remember, you must be comfortable with your investment strategy.
Each of EZTracker 's model portfolios are designed for different investment needs and styles. Whether you're an aggressive, moderate or conservative investor, EZTracker has a portfolio for you.
How does EZTracker compare with Lifecycle (L) Funds?
Lifecycle (L) Funds simplify investing in many ways but they can complicate it if they get your risk exposure wrong. Investing is not a one-size-fits-all and everyone's situation is different. L funds tend to be more cookie-cutter and they don't take into account where you fall on the aggressive, moderate, or conservative risk tolerance scale. Choosing a L fund based solely on your expected retirement date could leave you with an investment that exposes you to too much - or not enough - risk to meet your financial goals. Please check out this link for a recent comparison between EZTracker and the L funds: EZTracker versus Lifecycle (L) Funds
Our Philosophy
By evaluating the performance of your TSP choices and upgrading monthly, EZTracker follows the market leadership. EZTracker's monthly updating is, in effect, another form of diversification and a method for moving assets incrementally. Our goal is to deliver long-term superior results by seeking out the best performance that reflects current market conditions.
Performance
EZTracker began publishing the TSP newsletter August 30, 2020. We have backtested our data from 12/31/20 using the same EZTracker portfolio methodology we have used for over 20 different corporate 401k plans and ETF brokerage accounts.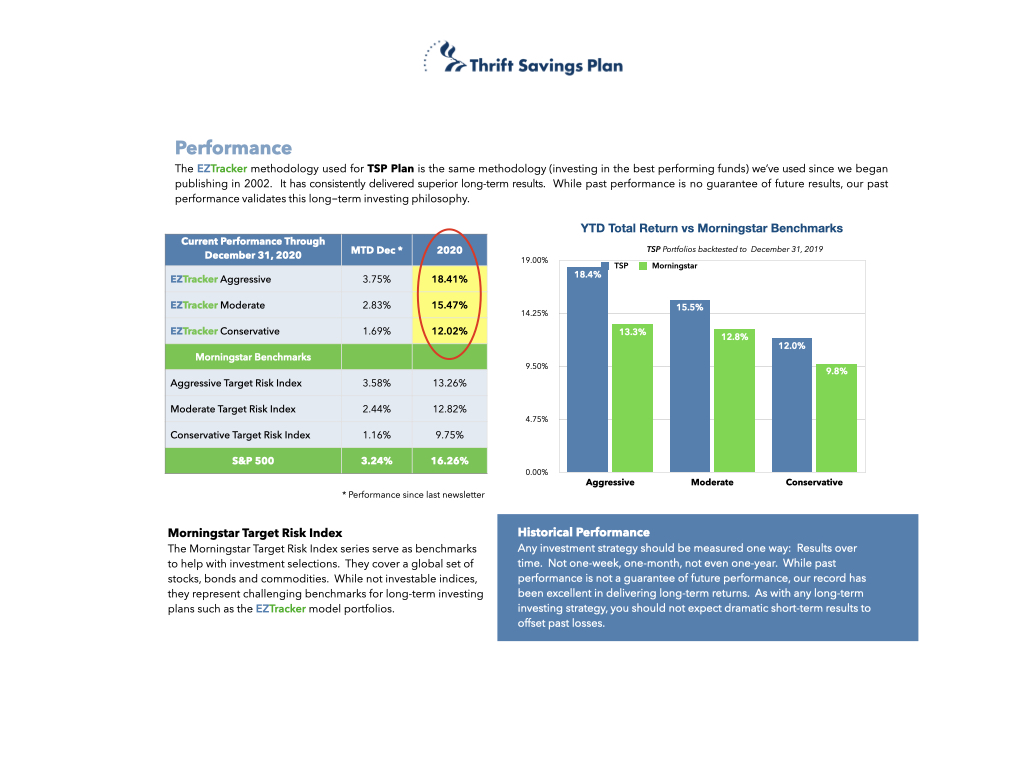 DISCLAIMER: Neither EZTracker nor any of its partners or representatives is in any way affiliated with the United States Government, The Federal Retirement Thrift Investment Board or the Thrift Savings Plan, and that the service being offered is not sanctioned by the United States Government, the Federal Retirement Thrift Investment Board or the Thrift Savings Plan.